2012 In Review


* Before the racing season got under way, Rick Thompson volunteered to help with Classic Series management. As part of his efforts, he provided a "Notice of Race" which was the basis for "Classic Series" racing administration. Thank you Rick! Your help is greatly appreciated.
* July 16, Hayseed and Virginia host a contingent from Denmark:
Jonna's brother Birger Holm, significant other Ulla, daughter Helena and Helena's beau Thomas came to help race on the "old ladies" and to help celebrate Hayseed's 100th. Birger is a renowned Dragon sailor. With Ulla at the helm and Birger as tactician they have won their share of events in Denmark. It is rumored that they raced against Prince Henrik and won. Birger remarked that he was a little daunted by Hayseed's size but soon adjusted and had a ball. Jay Nadelson kindly invited him to race with him and Ash Collins on Elida, which gave him a taste of IOD sailing as well. Birger was a great asset on all three boats. Lest I forget, Thomas learned how to sail quickly and became a valued member of Virginia's crew.
* July 21st: The annual Chester Playhouse Gala:

The Chester Playhouse gala was held at the beautiful house of Anne and Logie Cassels. Sails on Hayseed, Ripple, Seneca and Virginia were ably auctioned off by Joe Hill. Winners collected on the following dates:

Aug 3: Ripple:
Jimmy Rafuse at the helm
Guests were: John Moore, Elaine Solway, Bill and Luanne Polk, Frank Metzger, and Sue Pattillo.
Aug 3: Seneca:
John Wurts at the helm with Topher Wurts and John Gunning as crew.
Guest were - Malcolm and Sandra Matthews, Robin and Dianne Gilbert, and Ross and Willa Norman.
A gourmet luncheon-picnic prepared by Leslie's Pantry was provided by The Chester Play House.

Aug 9: Hayseed: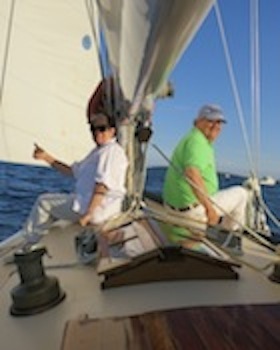 Hayseed went out on a regular Thursday evening FFA, John Wurts at the helm with Virginia's regular crew aboard. Special guest: Petra May. Winners of the auction were Gunther and Susan Reibling, son Tim and his fiancÚ Monica.Things were too hectic for snacks, but the Reibling family agreed that the chance to go on a race easily beat having a picnic.




Aug 13: Virginia:
The Fox family claimed their victory. John Wurts at the helm. Jonna Datz and Erick Bickerdike were crew. The winning guests were Keith, Colin, Kim, Tiffany, Emma and Harry Fox and Amy Murphy.


* July 25th: Party for Ancient Crew: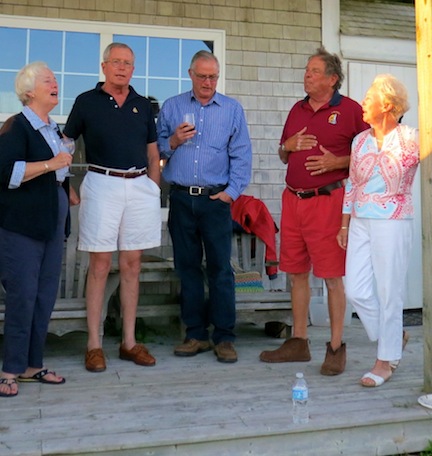 A party for "Hayseed Old Timers" circa 1950s and 60s, was held at John Wurts' Boat House. In attendance, among others, were David Colfelt all the way from Australia, and Thatcher Morse all the way from Key West Florida. Cabin boy Phillip Barkhouse was unable to attend owing to illness. Many of the old Hayseed's crew were in attendance. Sadly, some were missing.



* July 27th: Hayseed's 100th birthday:
Hayseed's 100th celebration was hosted by Bink Wurts at the Chester Yacht Club and at the Chester Play House. At CYC four boats, Hayseed, Ripple, Seneca, and Virginia were dressed and rafted up at the club dock. Randy Stevens led a "sailboat fly by" with a roaring cannon and a long line of decorated boats. The Royal Kennebecasis Yacht club sent the Coronation cup and The R.N.S.Y.S sent the Prince of Wales cup, both won on multiple occasions by Hayseed, to be displayed. There were toasts and speeches by Bink Wurts and Topher Wurts, followed by hamburgers and fireworks. The presentation at the Play House was sold out. The attendants got to witness pictures of themselves misbehaving in years-past. There were some great shots of the old boats too.
* July 28: Novice Cup:
Hayseed with Topher at the helm (Would you believe he had never been at the helm in a race in Chester before) sailed in the Novice Cup. This was a chance for the old timers to sail again. Aboard were Dave Colfelt and Thatcher Morse. It took a group of Virginia's crowd to help man the Hayseed. A great time was had by all.

* August 2 Thursday Night Race:
Hayseed joined the Thursday night race with all the old timers aboard. They were joined by Margot (MacLaren) Cooper, Heather (MacLaren) Johnston, and Wendy (MacLaren) Watt just like in the old days.
* August 10th through 17th: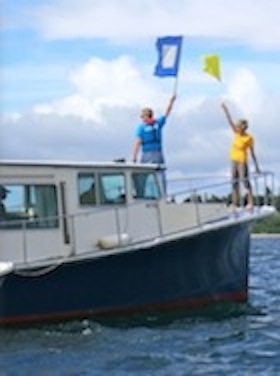 The Chester Classic Series and Race Week got a new look for the Chester Classic Fleet this year. The racing started and finished within sight of the CYC and the first few legs were inside Meisner's and Quaker Islands. The series was made up of three races. Because some of these old ladies are fragile, the worst single race score in the series was dropped. We got our own race director, committee boat, and chase boat. Jay Hooper ably filled the officers slot. Paul Bourque skippered his big blue Northumberland motor boat, Seafarer with Vic Boymook as navigator. Gold River Marina staff members, Cindy Bradette, Leigh Robertson, and Danial Walker were joined by Linda and David Grant of Lunenburg Marine Surveys and Michelle Thompson. Dianne Hiseler, and her friend Christa provided crew. The chase boat, donated by Gold River Marina, was manned by Daren Swinimer and Johnny Hatt, also members of G.R.M. staff.





* August 10, 11,12 Chester Classic Cup: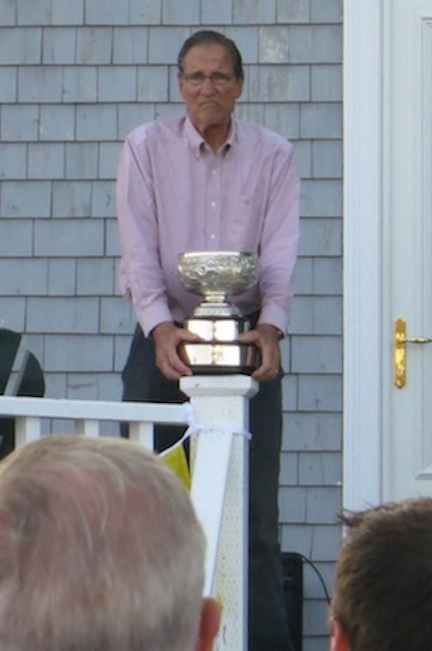 Danny accepts his trophy. The Chester Classic Cup was won by Eclipse, Danny Blain at the helm. Eclipse also won the the Chester Classics Gold Cup..

* The Hooper Cup :
Jay Hooper gave a beautiful gift to The Classic Fleet. As you will see in the Deed of Gift, it is a replica of the King Edward VII Gold Cup (depicted at left) which was given in lieu of the actual invaluable cup to the winner of The Classic Cup and the classic division of Race Week.The deed of gift appears below.
CHESTER CLASSICS GOLD CUP.
I Jay Cameron Hooper deed this trophy to the Chester Classics Assoc.; an exact replica of the King Edward VII Gold Cup. To be raced for on an annual basis, combining The Classics weekend regatta, and Chester Classics division of, Chester Race Week.
The Original is on show at the R.B.Y.C. in Bermuda, and is, the oldest Match Racing Trophy in the world.
King Edward VII awarded this trophy in 1907, for an International race at the Jamestown exposition, in commemoration of the first English settlers in America. To be raced in class "Q" yachts. (Jay notes: This is on the actual trophy, how very interesting.)
At some stage I guess Bermuda won it and still have it.
When this trophy ceases to be raced for in Classic Yachts, it will refer back to my youngest grand daughter, Megan Jayne Willis.
This is all done in memory of my late son in law Jonathan Willis.
Good luck, happy sailing to all winners and losers, enjoy, remember the great times.

Best Wishes from Jay and family.

PS. The insurance, keepers, and winner names on the Trophy; to be the responsibility of the Chester Classics Assoc.
* August 15, 15, 16, and 17. Race Week :
Race week was won by Ripple, Jimmy Rafuse helmsman.



* August 1, Classic Fleet Party:

| | | |
| --- | --- | --- |
| A look at all the happy people! | David welcomes the guests. | Doug and Willa hosted. |
The Classic Fleet Party was held at Doug and Willa Creignton's house.


* September 1, Martin's River Fun Race:
The Chester Classic Fleet was represented by Aileen, Seneca, and Virginia. Seneca took first. A scrumptious luncheon was served by Brian and Ann Palfreyman. The race was a little windy for the "old boats," but we got around the course without incident. David Creighton was presented the award for first by Chip Dickison at the gala event he and wife Pauline hosted after the race. Aileen, skippered by Mike Kelly took third and Virginia took fifth.

* October 6 Turkey Bowl:
Ceilidh (finished 5th) and Virginia (finished 7th) were the only members of the Classic Fleet to join the Turkey Bowl. Seneca usually joins this race but was on the hard this year. David and Mary Creighton joined to fill out the sparse remaining crew members on Virginia. The race was great fun, followed by a nice turkey dinner. The fixings were provided by a host of CYC ladies. A great way to finish the 2012 racing season.
Most of the pictures shown on this presentation were taken by Jonna Datz. Thank you Jonna!