2014 In Review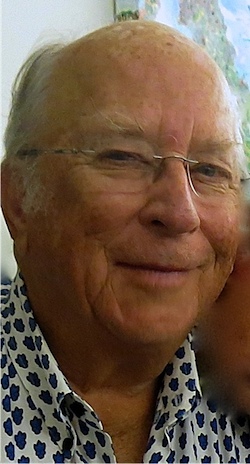 Message from Joe Hill, CYC's new Commodore .
This is a reprint of the
"Message from The Commodore"
published in the CYC
"Winter Newsletter 2013-2014"
"Happy New Year! A week in Chester during this crisp fall weather is invigorating and uplifting. Meetings with the Executive of the CYC are stimulating, productive and informative.

The calendar is developing; it will be a great resource, as we plan our summers, racing times and social gatherings. Cester must have one of the busiest racing schedules of almost any yacht club extant. We race almost every day of the week in season; it is great fun! It would be even more enjoyable, if more of the participants came back to the club after a race to enjoy the camaraderie, have a bite and just hang out.

Did you know that the club has a payroll of 19 people not including race week? This small town club is a big deal and requires many hands, including volunteers! To provide the services, racing and just plain fun, requires commitment, patience, a whole lot of work and cash.
We have 200 paying members, which include another 200 plus as part of a dues paying household. We need more, so talk up the club and try to seduce your friends to join. As you sit by the fire (or pool in Florida) think about who you know who might be interested in joining. They will like it as much as you do. Their names will be posted along with your names on the membership list on the bulletin board.


Please send me an email - fatcityjoe@hotmail.com - with questions and concerns. I will get back to you as quickly as I can, addressing your point. Stay warm! Joe Hill Commodore."
Editor's Note: I hereby nominate Joe Hill for Honorary membership in the Chester Classic Fleet. He provided the venue for our CCF party a couple of years ago. He is (along with a huge group of relatives and friends) a frequent specatator of our events. He and his wife Libby are the skippers of the Izzy B, an icon of Chester boating. Though she is powered by moter, she clearly qualifies as a Classic boat. Without objection I am going to add her as an Honarry Member of the CCF with Joe and Libby et al. as owners. JWWJR
Aug 8, 2014 Star wins Ondaatje Cup Race one
Aug 9, 2014 Mighty Mo wins Ondaatje Cup Race two
Aug, 10 2014 Mighty Mo wins Ondaatje cup race three placing her the over all winner followed by Star and Ripple
Aug, 11 2014 Ripple wins race one of the Classic Yachts division of Chester Race Week
Aug 12 2014 Classic Racing cancilled because of high winds
Aug 13 Ripple wins race 3 of the Classic Devision
Aug 14 Star wins race 4 of the Classic Devision.
Over All winner was Ripple
Topher Wurts' Hayseed IV beats Virginia for second in a knock drag out fight with father John Wurts.
Ripple wins Hooper cup
Web design by John W Wurts Jr. 2012 in Review.html, all rights reserved.